Hope you are all well and having a good week.. The sun is shining here today and it is alot warmer than yesterday..
This challenge will run from 12th Sept until 27th Sept
and the prize for the winner will be.....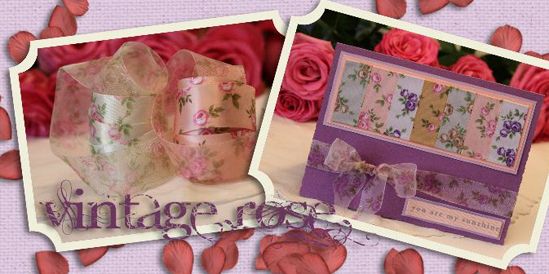 A beautiful selection of vintage rose ribbons..
Now you may have noticed from my blog that I ALWAYS avoid Vintage cards, this isnt because I dont like the style because I love looking at other peoples fab vintage designs, I just cant seem to master it myself lol.
Anyway this is the card I finally managed to make... (Please forgive the very very simple design as not much of my crafty stash suits Vintage...:-(
For this very simple design I used DP's from an old Crafts Beautiful paper pad.. Matt and layered onto gold and then brown cardstock.. Attached with wonderful gold ribbon available from
Crafty Ribbons
.. Finshed off with a punched topper also from the paper pad and some adhesive gems..
See told you it was simple lol
My new teamies have created some fabulous cards so pop over and take a look, I'm sure they will give you more inspiration that mine lol... ;-)
Also don't forget if you pop over to the Crafty Ribbons Blog

here

you can enter the Friday Freebie,every Friday Ali and Tony offer ribbon for some lucky person to win,all you have to do is leave a comment on the Friday freebie post it's easy so why not check it out as well...........
Thats all from me now peeps.. Have a fab day and I should be back later to see what you have all been up to..